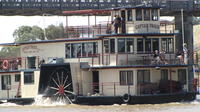 Live Music Evening Dinner Cruise From Murray Bridge more_vert
$86.90 AUD Book
close
Embark down the majestic Murray River as you enjoy live entertainment and a two course dinner on this three hour cruise. Relax and unwind on the paddle powered Captain Proud while enjoying stunning views of the greatest river in Australia. Your cruise will include historical commentary from your expert captain as you create lasting memories with friends and loved ones.


Departing at 5pm and returning at 8pm, this Saturday evening cruise is sure to entertain. Captain Proud is powered by the paddle wheels on either side of the vessel.The River Murray is 2,530km in length and is a natural border for New South Wales and Victoria as it enters downstream to South Australia.

You will feel the history as you snake along the Murray River listening to the expert commentary from your Captain. A two course dinner will be served while cruising the Greatest River in Australia. See the birds feed and play and the calmness of the river as the evening progresses. 
Explore the vast and natural beauty that is our River Murray. The Captain Proud Paddle Boat boasts a fully decked out period styled dining area and bar. Enjoy a fine meal and a drink to wash it down with as you cruise slowly past majestic scenery.  Experience the wildlife of the River Murray in all its untamed natural beauty. 

Cruise past towering cliffs of rock and sandstone, and other wonderful scenery as you take in the fresh air on the deck outside the dining room.  Learn of the wonderful history of the area as you relax in comfort with friends,  loved ones, or business partners.  We will deliver a unique experience that will be both fun and memorable.
---